May 30 (Tue) 19:30-23:00
Fukuoka Tower
Representing Momochi Beach's "waves" and "wind"
The front view emphasizes the characteristic triangular design of Fukuoka Tower, creating a structural beauty and a sense of dynamism.
The side view is a diagonally continuous gradation that expresses the "waves" and "wind" of Momochihama.
* Illuminations may be changed in a hurry due to circumstances. Please note.


The red rectangle represents the best tower illumination viewing point.
*Not able to be seen from the sea side.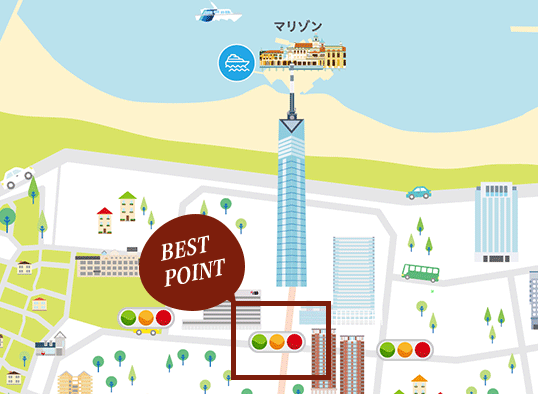 Art illuminations that add color to the city as a landmark in Fukuoka.
Not only the four seasons such as cherry blossoms, Christmas, and moon viewing, but also seasonal events are displayed as motifs.
The regular illumination that enhances the shape of the triangular prism tells the time once a hour.