February 1 (Wed) 18:00-23:00
Valentine
A big HEART ILLUMINATION lights up on the tower
A large heart pendant stands out in the tower that has been dyed in a pale pink like rose champagne, and a bow and arrow and a shot heart illuminate in the upper part of the Observation Deck . In addition, champagne gold bubbles slowly rise from the bottom to create a romantic night.
<< Request at the time of viewing >>
When viewing the Fukuoka Tower Illuminations
"Viewing by stopping on the sidewalk" and "Viewing by parking in the section where parking on the street is prohibited"
Please refrain from doing so as it may cause inconvenience to other passers-by.

* Illuminations may change in a hurry due to circumstances. Please note.



The red rectangle represents the best tower illumination viewing point.
*Not able to be seen from the sea side.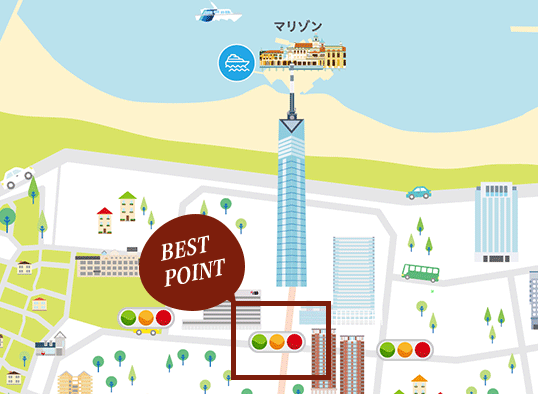 Art illuminations that add color to the city as a landmark in Fukuoka.
Not only the four seasons such as cherry blossoms, Christmas, and moon viewing, but also seasonal events are displayed as motifs.
The regular illumination that enhances the shape of the triangular prism tells the time once a hour.