The color illuminations of Fukuoka Tower are popular! Supporting that person you love with "push color" ❤
Hello! I 'm the Fukuoka Tower sky attendant staff. This time, we will introduce new illuminations that started this summer.
That is the "color illumination service"! This service allows you to LIGHT UP Fukuoka Tower in your favorite color, limited to one group per day.
The colors are white, red, blue, green, yellow, purple, orange, and pink. Right after the service started, applications have been received one after another, and it is already attracting attention!
Dye it in "push color" to liven up the anniversary ♪
Color illuminations that can deliver a surprise of light at Fukuoka Tower, which can be seen from all over Fukuoka City. Among them, the number of people who LIGHT UP their favorite characters and idols' "push colors" to convey their support and birthday celebrations is increasing rapidly ♪
The other day, on the birthday of Tokiya Ichinose, the character of the popular romance game "Uta no Prince-sama", the image color is LIGHT UP in purple! On the day of the LIGHT UP, many fans gathered around Fukuoka Tower to celebrate their birthday ∗ • * ¨ * ⸜ (´ ˘ `∗) ⸝ * ¨ * • ∗ Many photos have been uploaded, and all the staff at the tower are very happy! Happy birthday ♪
In addition to this, those who are LIGHT UP to commemorate the release of new songs by the idol group...!
The PayPay dome is in the immediate vicinity of Fukuoka Tower. It may be good to convey the feelings of support by LIGHT UP the image color at the time of an artist's concert or a game of a baseball team. Furthermore, when all the fans gather, it is sure to get excited if it is LIGHT UP as one of the Events ◎
Of course, it is also possible to LIGHT UP the other party's favorite color for family birthdays, 60th birthday celebrations, and retirement celebrations. You can see it in various places in Fukuoka City, so "Surprise at Fukuoka Tower seen from our balcony" seems to be a lifetime memory ♪
LIGHT UP is from sunset to 22:00, and you can specify any time you like. For example, my favorite idol's birthday is September 18th, so I was particular about wanting to light it from 9:18 pm after that ♪ The lighting time is 10 minutes. The lighting Fees is 30,000 yen (tax included), and you can apply from the Fukuoka Tower official website. Only one group per day, so early application is recommended. Why don't you send a wonderful surprise?
The proposal is a surprise with HEART ILLUMINATION!
Speaking of a once-in-a-lifetime surprise, after all it is a proposal! At Fukuoka Tower, we also offer illumination services that are perfect for proposals.
That is "HEART ILLUMINATION"!
It is a service that can light up an angel shooting a bow on Fukuoka Tower and many hearts. You can produce a romantic proposal that you will never forget, like a scene from a movie or drama. Why not turn on the Fukuoka Tower for just two people on your wedding anniversary or birthday?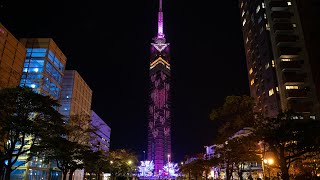 It is also good to set it with dinner at Fukuoka Tower's Sky Cafe & Dining "Refuge" ♡
You can also see it from the guest room of the hotel "Hilton Fukuoka Sea Hawk" near Fukuoka Tower. The hotel also has a proposal plan, so why not consider it as well?
This is also a service limited to one group per day, Same as above to color illumination. The Fees is 30,000 yen for 5 minutes, and applications are accepted online. There are two types of HEART ILLUMINATION, so please check the official website.
Click Here for Details on the HEART ILLUMINATION that is perfect for a proposal!
We send your thoughts to the light!
Illuminations service started with the idea of "I want to help you create a memorable performance on a special day." We will deliver your thoughts from Fukuoka Tower, such as a surprise proposal, a birthday celebration, and a feeling of support.