Momochi Blue Light Illumination 2019
The New Christmas illumination perfect for SNS!
Hello! I'm a Fukuoka Tower sky attendant. Christmas lights have started to lit up everywhere in the city of Fukuoka this year as well. Here at Fukuoka Tower, the annual Christmas event "Momochi Blue Light Illumination 2019" has started. I am going to report on the highlights of the lighting ceremony held on November 15th and the illumination with Futa!
New Christmas illumination was made the whole tower look like a Christmas present!
The content has been completely renewed from last year. A new illumination has appeared this year. I can't wait to see fun illuminations which color the night sky.
I heard that the entire Fukuoka Tower will look like a Christmas present wrapped up in a snow pattern gift paper.
Wow! Tower would look like a Christmas present? I can't wait to see it! …
While talking...the lighting ceremony has started! ! First of all, 20 little children from Kaizuka Kindergarten joined as special guests. Cute children dressed in matching costumes with Santa's hat and white cape sang Christmas songs such as "Rudolph the Red-Nosed Reindeer" and "Santa Comes to Town".
Children from Kaizuka Kindergarten who made the lighting ceremony so special with very cute singing and dancing.
And then another special guest joined! To celebrate the release of the new movie " Can Y Neko become a Hero in Yo-Kai Gakuen? ", a popular character from the "Yo-Kai Watch" series, "Jibanyan" appeared in the special event. He came to light up the Fukuoka Tower!
Finally, it is time to be lit up by Jibanyan and Kaizuka Kindergarten children! !
5 ・ 4 ・ 3 ・ 2 ・ 1 ・ 0! Switch on!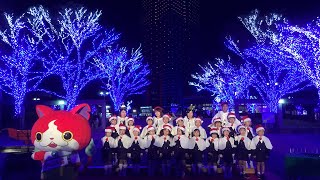 "Wowwww !!", the area was wrapped in blue light.
And the lights were turned on Fukuoka Tower!!
Wow! Now Fukuoka Tower has changed into a Christmas present with a ribbon♡
It was lit up with a Christmas tree on the right side, red ribbon on the left side, and the whole tower was decorated with snow patterns. The view of the trees lit up with blue lights was also wonderful.
Jibanyan and the cute children all had happy smiles!
Both inside and around Fukuoka Tower has been filled with a Christmas atmosphere now!
You can also enjoy the Christmas atmosphere inside the Fukuoka Tower.
Taking a commemorative photo with a Christmas tree on the first floor. You can feel Christmas is coming!
There are more Christmas trees, on in the entrance, and another on the observation deck. The photo spot in the observation deck was changed to be a Christmas version!
Moreover! There is also an event where Futa Santa Claus appears. I will be Santa and say hello to everyone!
Futa Santa appears on Saturdays, Sundays, and holidays during the illumination period (November 15 - December 25). About 20 minute every hour from 12:00 to 16:00 in the observation deck. Please come to see him.
I'm looking forward to meeting everyone!
There are other illuminations around Fukuoka Tower to create a Christmas atmosphere.
In front of the TNC-TVBLDG, such a cute illumination has appeared. Perfect for taking photos!
Wow! The whole area of the park is glittering!
The path to Marizon through "Momochi Seaside Park" is also beautifully lit up for Christmas. Please take a walk and enjoy the illuminations.
Just taking a walk makes me feel romantic!
And Fukuoka Tower will be open until 23:00 on December 24 and 25! It's perfect for a romantic night on Christmas.
You can enjoy your night just by watching the illuminations, but if you come inside the tower I'm sure that you can feel even more Christmas atmosphere. Please come to see the romantic scenery which you can see only at this time.
The illuminations are perfect for couples but also fun for small children. Everyone please come and see it. .
Momochi Blue Light Illumination 2019
Period: November 15 (Fri)2019-February 14 (Wed)2020 *Tower illuminations are available until December 25 (Wed).
Time: From 17:00 to 23:00 (lights up till 24:00 on 24 to 25 December)
https://www.fukuokatower.co.jp/event/archives/108
Futa Santa
Period: Saturday, Sunday and public holidays from November 15 (Fri) to December 25 (Wed) 2019
Time: About 20 minutes from ①12: 00 ②13: 00 ③14: 00 ④15: 00 ⑤16:00